Prior to an interview, external applicants should complete the Application Agreement and Interview Questionnaire, which are sent with the interview confirmation email.
How it Works
When you receive your interview confirmation email, sign back in to your NYP Careers Candidate Home Account.
1. Once in your profile, you will see all of the jobs you have applied to, along with any pending tasks. Pending tasks are indicated by the icon with an exclamation point in an orange circle. To view the task, click on the position title with the task icon.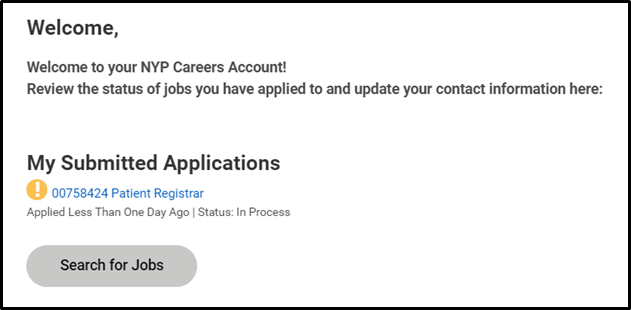 2. After clicking on the position title, you will see the Interview Questionnaire.
3. Once all fields have been completed, click the "OK" button to submit.
For More Information
Contact HR Connects through the chat at the bottom right of your screen.
CJ1-9