Overview Summary
The federal Form I-9 is used for verifying the identity and employment authorization of individuals hired for employment in the United States. All U.S. employers are required by federal law to ensure proper completion of the Form I-9 for all employees.
To help with this part of the process, NYP has partnered with a third-party vendor, Fieldprint. To schedule your in-person appointment, which must be scheduled prior to your start date, follow the steps below.
All offers of employment are contingent upon successfully completing NYP's pre-employment onboarding process, which includes completion of Form I-9. A delay in completing this step in the onboarding process may result in a delay with your start date.
How it Works
Accessing the Fieldprint site -
If you have used Certiphi to complete a background check -
1. Once you have finished completing your Certiphi background check via Application Station you will be see a Confirmation page with the instructions and link to schedule your Federal Form I-9 appointment with Fieldprint.
2. Click on the link within the Confirmation page to navigate to the Fieldprint site: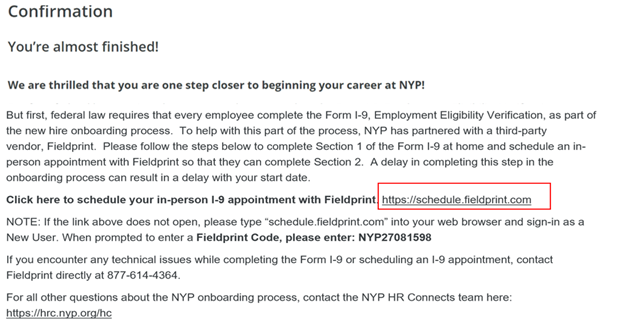 3. If you have been logged out Certiphi Application Station, click here to sign back in. You will see the "My Forms" section. Click "View".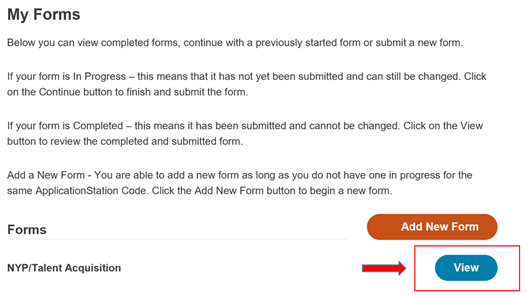 4. Your in-progress application will appear. Click "View" again to return back to your application to view the Confirmation page once more with the Fieldprint instructions and link.

If you have not used Certiphi to complete a background check -
You will receive an email from <ReportDelivery@certiphi.com> titled "Remote I-9 Request". Click on the link within the email to sign-up for an in-person Fieldprint appointment. In addition, copy your Fieldprint code from the email to use when you schedule your appointment on the Fieldprint website. See screen shot below: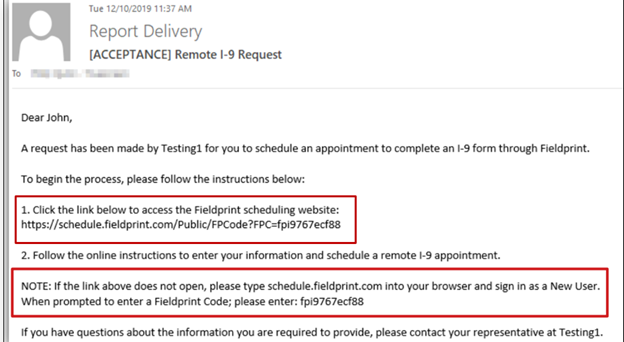 *If you did not receive this email, contact HR Connects through the chat at the bottom right of your screen for further assistance.
Navigating the Fieldprint site -
1. Type in your personal email under "New Users" and click 'Sign-Up.'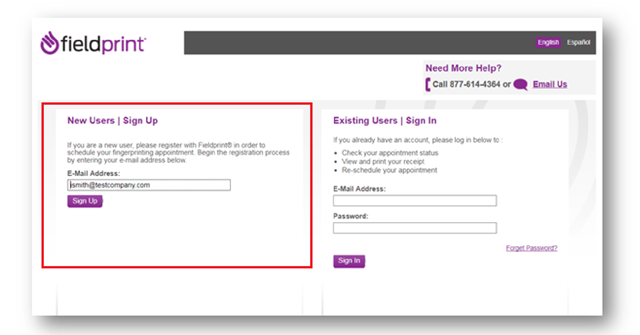 2. Create a password and security question/answer, which will be needed in the event you forget your password and need to reset it.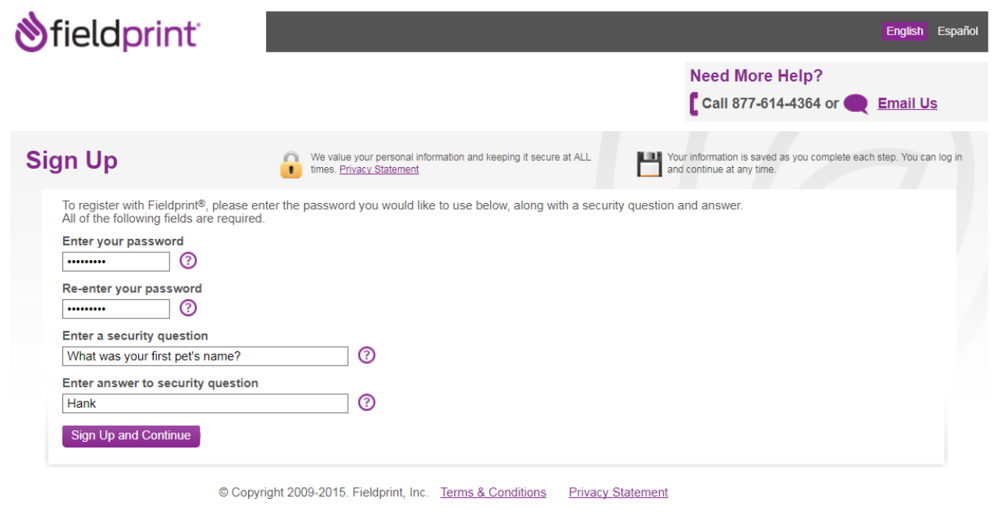 3. After clicking "Sign Up and Continue", paste your one-time code, copied from the Fieldprint email (see above).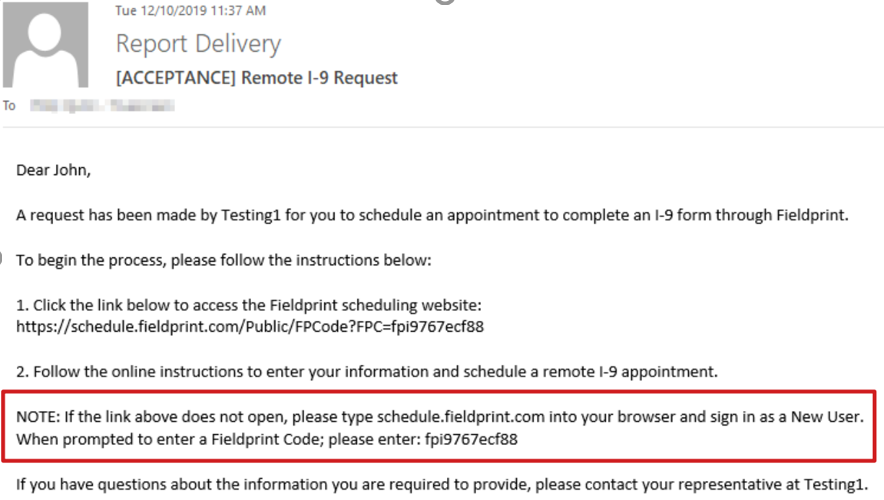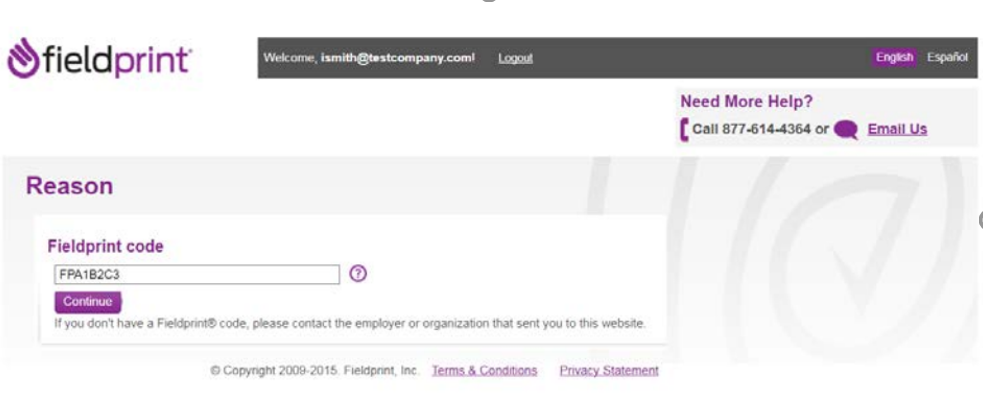 4. On the next page you will now enter all of your personal information. All fields must be filled in, and if anything does not apply please type in "N/A" (see screenshot below).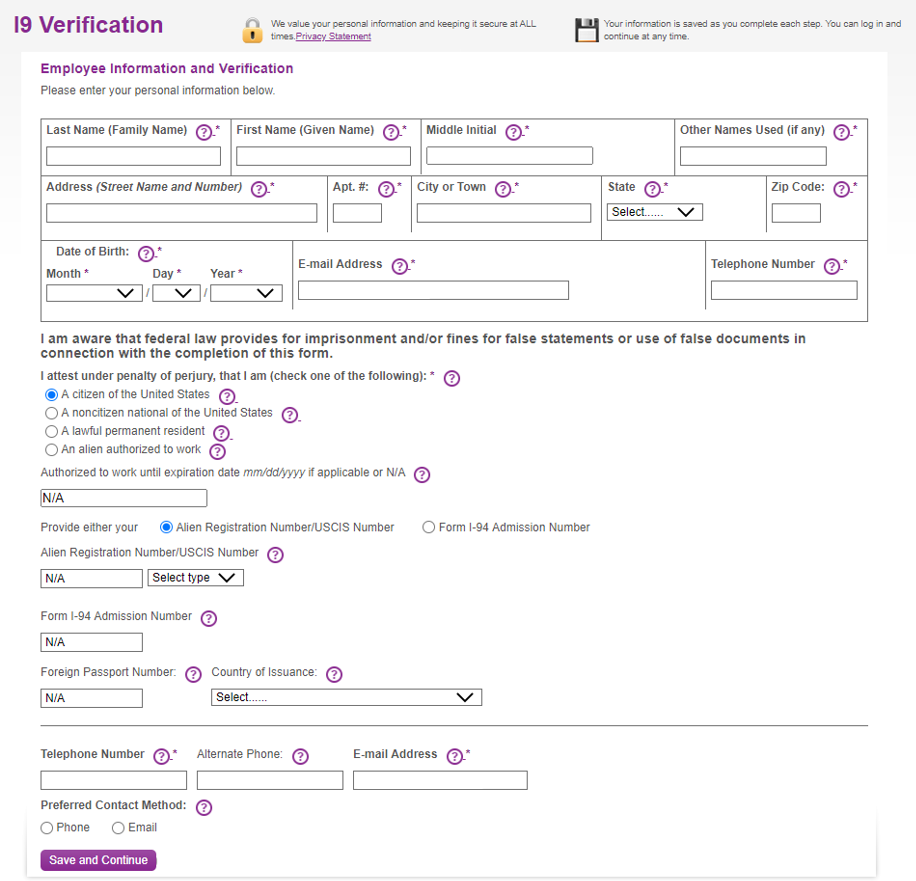 5. Select your citizenship status. Depending on what you select, all remaining fields will automatically populate as "N/A". For more help, hover over the purple question mark for additional information.
After all fields are completed, select "Save and Continue". Please note you cannot revisit this page once you move forward. If an error is made, contact HR Connects through the chat at the bottom right of your screen for further assistance.
6. Section 2 of the Form I-9 must be completed in-person at a Fieldprint location prior to your tentative start date. Enter your address to see nearest Fieldprint locations. Once you decide on a location, click "Schedule Appointment."
7. Use the drop down menu to select an available time slot. Click "Schedule."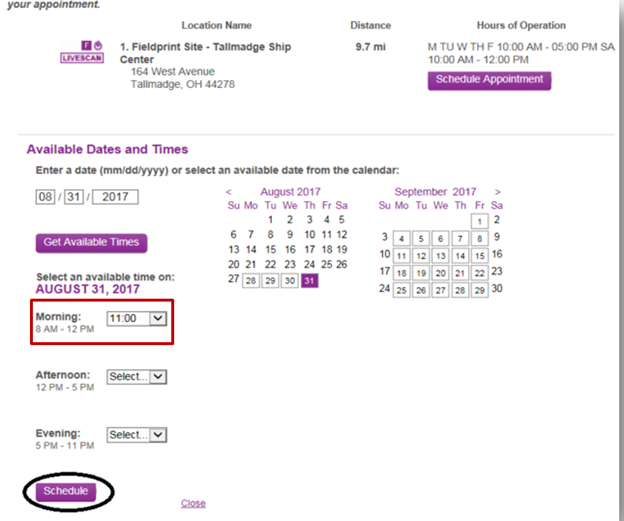 8. To confirm your appointment time, click "Continue." Disregard the note about incurring a charge.
9. Read through your confirmation page and save for your records. You are not required to print this page, but will be required to provide your appointment number (which can be found in your confirmation email) upon arrival to the Fieldprint office. You must bring appropriate documentation from the list of acceptable documents. For more information, refer to the following link:I-9 List of Acceptable Documents.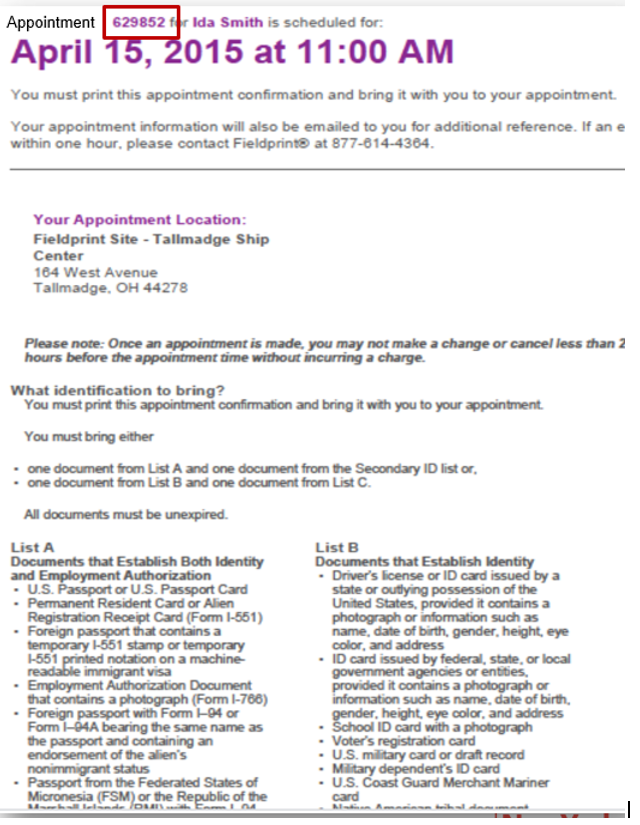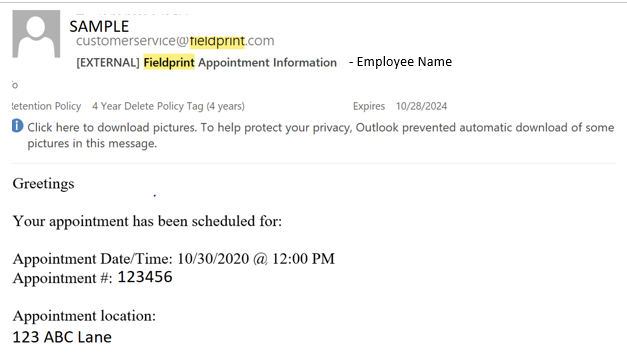 *You do not need to get fingerprinted at the Fieldprint location.
For More Information
If you experience technical issues using the Fieldprint website, contact customerservice@fieldprint.com. Please have your Fieldprint code available to provide to the customer service team member. Do not contact the individual Fieldprint location for customer service inquiries. For any other issues, contact HR Connects through the chat at the bottom right of your screen.